Slow Cooker Central KIDS – Book 4
Posted on July 5, 2017 by Paulene @ Slow Cooker Central 8 comments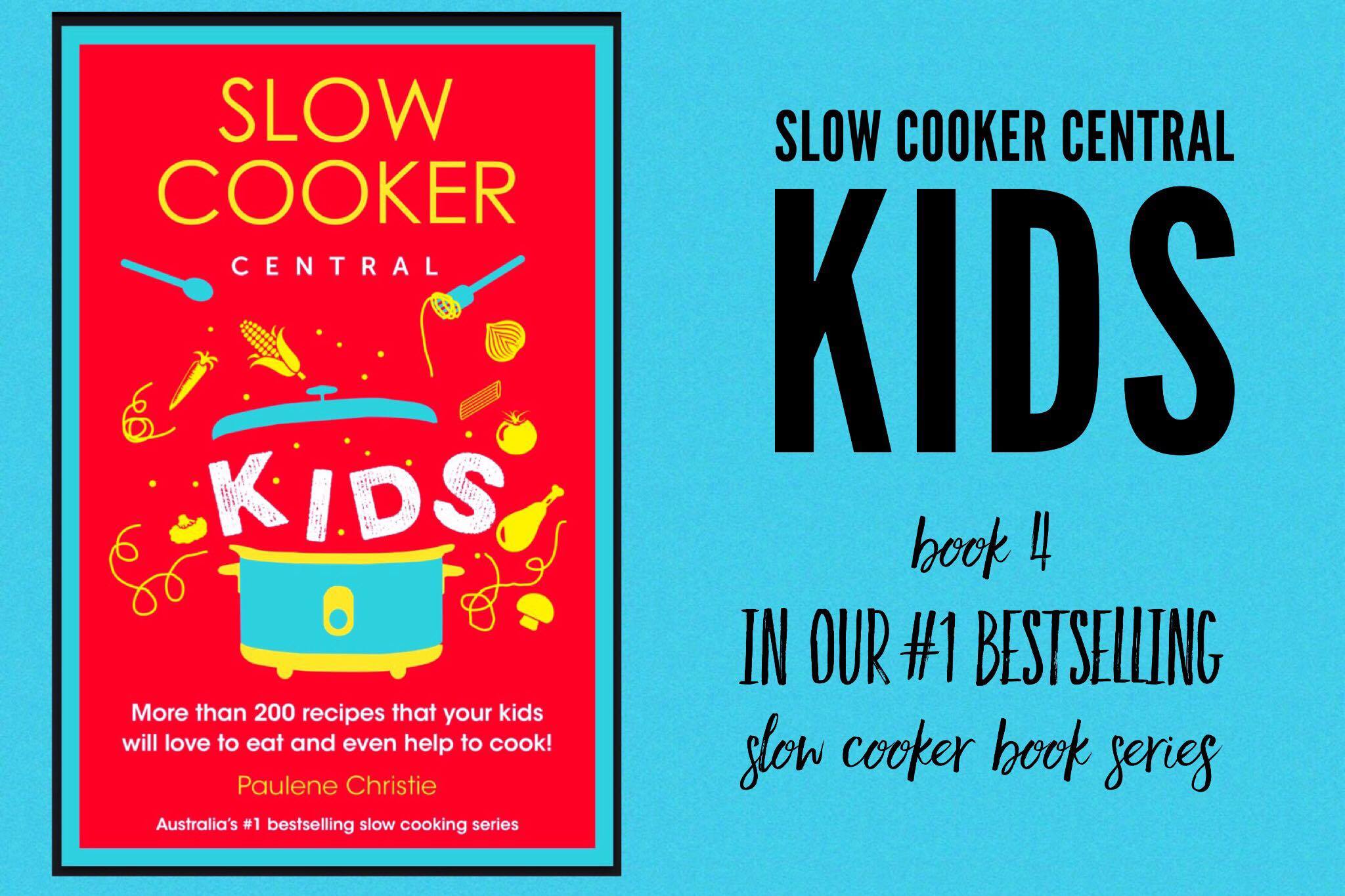 After the phenomenal success of our first 3 books 'Slow Cooker Central', 'Slow Cooker Central 2', and 'Slow Cooker Central – Super Savers', all of which went straight to the top of the Australian Best Seller Charts, are all loved and shared by so many and are on book shelves all over the world … it was time to turn our attention to what's next.
We are thrilled to announce the next addition to your favourite Slow Cooker Central collection!
Book 4 – Slow Cooker Central KIDS!
Recently we polled members of our Facebook Group to ask what you wanted to see in our next books … and we listened 🙂
More than anything else you wanted recipes for kids!
Recipes that kids will actually eat – but also ones they can help cook too 🙂
That doesn't mean the recipes aren't suitable for folks of all ages still of course,  it just means that they will suit ALL tastes, even fussy kids included 🙂
So nothing too exotic or spicy – just great tasting, yummy food on the table or in lunchboxes or as snacks or desserts.
Also nothing too complicated … because not only do we want recipes that your little ones will love to eat – but we also want to encourage them to get into the kitchen and cook them with you!!
What a great skill to teach your young ones – and what a great activity to do with them for quality time together, that at the end also produces a great outcome that the whole family can then enjoy eating 🙂
From Slow Cooker Central KIDS you can expect a book jam packed of recipes across all meals of the day as well as treats, lunchboxes and desserts and even some fun craft recipes too!
Whether you have kids in your life you want to encourage to cook, kids who are already great cooks and want to try new recipes … or just kids you want to EAT WHAT YOU SERVE THEM 😉 … this book is for you!
Where to find copies of the new book!!
Look for your copies in the following stockists:
https://shop.abc.net.au/slow-cooker-central-kids
• ABC online shop & ABC centres
• All major book stores
• Big W
• Target
• K Mart
• Sanity
• Myer
Available now at Big W online (all 4 books available)
Delivered to you for $5
And AFTERPAY is available too
https://www.bigw.com.au/product/slow-cooker-central-kids/p/691668/ •
Many major online book sellers will deliver to you direct to save you hunting around (eg Booktopia, Amazon etc)
• You can also purchase the book in digital format like iBook & Kindle for your tablets & readers
Remember also that not every shop every where will have their stock on shelf on day 1

If you can't see it – ask then when theirs arrives

If they don't have it – ask then to order it

If you don't want to have the hassle of hunting go to ABC Shop Online and have it delivered straight to your door instead
Feel free to comment below where you find your copy to help others find theirs!!
I'm so excited for everyone to see what we have created for you in this collection!!
(books 1-3 available here >> https://slow-cooker-central.myshopify.com/)
Don't forget you can purchase books 1 and 2 (and soon 3) from our website shop here
Details on other book 1 stockists here 
Details on other book 2 stockists here 
Details on other book 3 stockists here 
Happy Slow Cooking!!!