New Wave 5-in-1 Multi-Cooker
Posted on May 14, 2015 by Paulene @ Slow Cooker Central 21 comments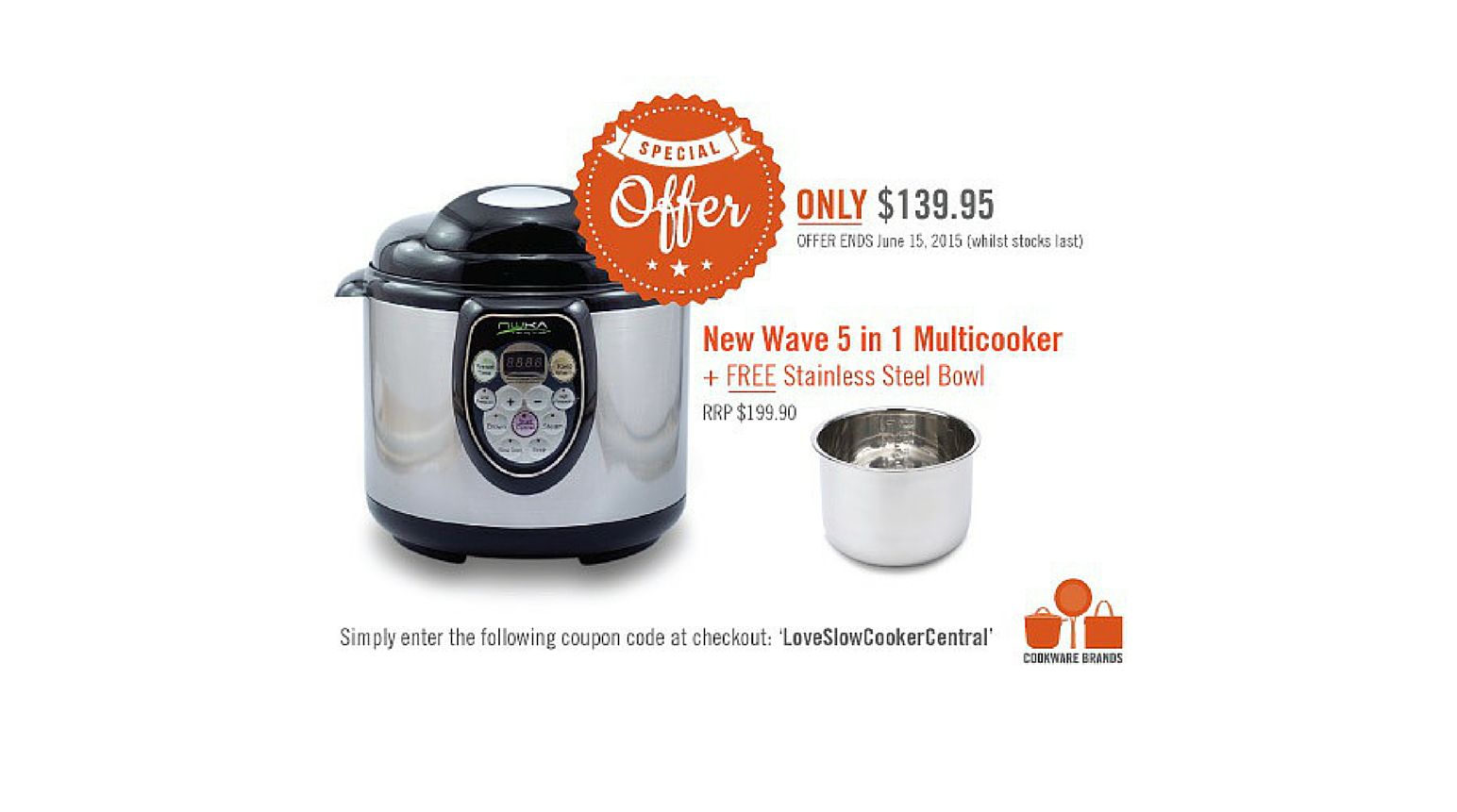 ---
With so many kitchen appliances on the market to choose from these days it can be hard to know which one to choose.
What's not to love about one that multi-tasks and saves us space, time and money.
Enter the age of multi-cookers.
The New Wave 5-in-1 Multi-Cooker to be precise.
Multiple kitchen appliances all packaged in one compact unit!
The New Wave 5-in-1 Multi-Cooker has 5 functions:
– Brown
– Slow Cooking
– Soup
– Steam/Rice
– Pressure Cooking
~BROWNING~
A great function for those of you who like to brown or sear  your meat prior to slow cooking or pressure cooking.
Done right there in the same bowl so all those crunchy, flavour packed browned bits aren't lost in another pan and that flavour transfers straight to your main recipe.  And saves you on dishes too!
Also for those looking to cut down on fat content, you can brown your meat then discard the fat before going on to your next stage of cooking.
Of course browning is also great for onions, vegetables, bacon etc and other ingredients – not just for the meat.

~SLOW COOKING~
Here at Slow Cooker Central our focus is of course on the slow cooking function.
It sure doesn't disappoint!
The New Wave 5-in-1 Multi-Cooker has a digital timer so you can set your cooking time in 30min intervals for up to 9.5hrs of cooking time.
Worth noting is that this unit has a delayed timing start option for a delay of up to 9.5hrs.  Something I know many of you so often ask for!  I've not personally seen this in another unit I've reviewed before so this is a huge draw card for this unit!
After your programmed cooking time has elapsed your unit will then switch to keep warm function.
So for those of you working long days … this unit will delay start, cook, then switch to warm all by itself … all of which will enable you to cook more recipes over longer time periods 🙂
Because this unit will operate with the pressure cooker style lid open or ajar you can still use this to cook all your non traditional slow cooker meals we love that require the Tea Towel.
The cooking bowl is a deep, round, 6L capacity
~ SOUP ~
The soup function is set to a default time of 25mins but you can increase it up to 99mins cooking time to suit your recipe.
Soups cook between 110 and 121 degrees Celsius.
Again you have the option of a delayed timing start option of up to 9.5hrs.
The soup function will work for both clear or thick style soups.
~ STEAM/RICE ~
This feature allows you to cook rice or steam food by adding the steam rack/tray and/or the steam basket into your New Wave 5-in-1 Multi-Cooker.
Again you have the option of a delayed timing start option of up to 9.5hrs.
Steaming is a great option to maximize the health benefits in your recipes.  Far higher levels of nutrients, vitamins and minerals are retained in steaming then in other methods of cooking.
When it comes to rice cooking, graduated markings on the inside of the inner bowl make measuring the liquid needed for your rice cooking easy.  Your unit also comes with a plastic rice cup measure.
~ PRESSURE COOKING ~
The New Wave 5-in-1 Multi-Cooker has the option of high (13psi) and low (7psi) pressure cooking settings.
Using steam under pressure produces temperatures significantly higher than ovens, thus decreasing cooking times without sacrificing taste or flavour.
Pressure cooking also ensures vegetables retain more vitamins and minerals.
If you are new to pressure cooking the instructional booklet of the unit has lots of useful information and guides for you.
General Features:
– 7 Safety protection measures
– 6L capacity
– Stainless steel finish
– Non stick removable inner bowl
– Digital timer with countdown
– Slow cook times in hours
– Fast cook times in minutes
– Automatic keep warm setting
– 12 months warranty
– Not for dishwasher
New Wave 5 in 1 Multicooker (Pressure Cooker, Slow Cooker & more) – RRP – $169.95
+ bonus bowl (stainless steel) – RRP $29.95
That's a total RRP value of $199.90 but for a limited time Slow Cooker Central members can purchase both for $139.95 + FREE shipping.
That's a huge discount of $59.95 on the unit alone!!!! Not to mention the free shipping 🙂
Don't miss out on this great offer … go HERE to secure yours today!
*IMPORTANT*  You MUST enter the coupon LoveSlowCookerCentral to get the special price plus free delivery anywhere in Australia!  If you wish to buy follow this procedure for discount:
– Add to cart
– Then click on the grey "HAVE A COUPON" box
– Enter coupon code LoveSlowCookerCentral
– Click apply
– You will then see price change and can 'proceed to checkout'
•Offer only valid while stocks last•