Campbell's 'Real Soup Base' GIVEAWAY
Posted on November 4, 2016 by Paulene @ Slow Cooker Central 59 comments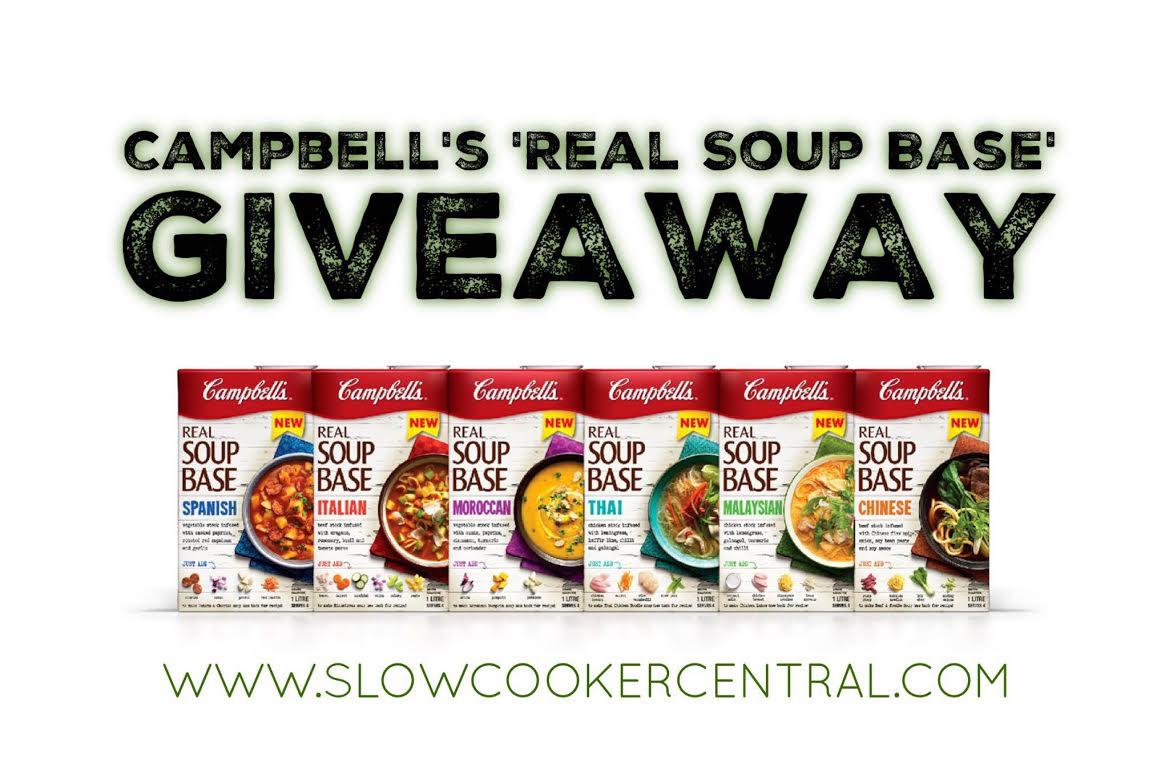 ***COMPETITION NOW CLOSED***
Our 5 lucky randomly drawn winners were:
Leah Stafford
Regan
Tania Gillham
Brenda Morton
Kaylah James
Congratulations to our winners and thanks to everyone who entered 🙂
Winners have now been emailed regarding their prizes.
——————————————————————
Campbell's and Slow Cooker Central want you to think about soup….
Not just any soup though.
We want you to think of the not your every day kind of soup.
The kind of soup that captures flavours from international cuisines all over the world.
The fill your belly and satisfy your taste buds kind of soup.
Slow cooked soup of many flavours 🙂
And then think about something that means making your soup is even EASIER…
Campbell's promise that their special mix of stock, herbs and spices already in each Campbell's Real Soup Base pack will take the hard work out of making your next flavoursome soup.  Half the work is already done for you 🙂
What a perfect ingredient to base your next slow cooker soup creation on!
You could follow one of two suggested recipes listed right on each pack , or you could visit the Campbell's website for even more suggested recipes for each base, or you could instead use the bases for your own special soup creation!
While the suggested recipes list methods for stove top cooking rather slow cooker specific methods, they would adapt great to slow cooking also.  You can use them however suits you best 🙂
The full range of Real Soup Bases and more information on each one can be viewed HERE on the Campbell's website.
In coming weeks I'll be sharing recipes to our Facebook Group showing how I have adapted them to slow cooking or used them as a base in other slow cooked soups. We'd love to see you share your slow cooked creations with them also!
Campbell's are giving 5 lucky winners the chance to win a prize pack containing 1 each of the 6 Soup Base flavour varieties per winner!
So you can try them too! 🙂
How great is that?!
Simply comment below which flavour you'd like to try most and why – it's that easy!
We will select 5 random winners from the comments below.
(comments appear after approval so don't worry if you don't see yours right away)

This competition is open now and will close at midnight Sunday 20th November 2016 (AEDT)
One entry per person.
Open to Australian residents only.
Winners will be announced here on this post on Monday 21st November 2016.
Good luck everyone ?